BPI Certification Mark Usage Requirements

The BPI License Agreement requires all BPI-certified products (e.g. bags, cups, cutlery wrappers, forks, pouches) and packaging (both consumer- and market-facing) for BPI-certified products to display the BPI Certification Mark unless an exemption has been granted in writing.
The on-product portion of this requirement is particularly important to differentiate compostable products from their non-compostable counterparts and is the visual cue that consumers and end-users will use when determining whether or not to put an item into an organics/compost bin. Composters will use this same information to determine whether or not an item that they receive at their facility represents a contaminant to their operation. Without consistent labeling and identification efforts at the on-product level, it is nearly impossible for compostable products and packaging to be diverted from landfills and receive their appropriate end-of-life.
The BPI Certification Mark Usage Requirements manual provides overviews of current regulatory requirements for compostability messaging in the United States and Canada and shows examples of the BPI Certification Marks in use. BPI has different versions of the BPI Certification Mark available, but all certified products and their packaging must contain the following 5 elements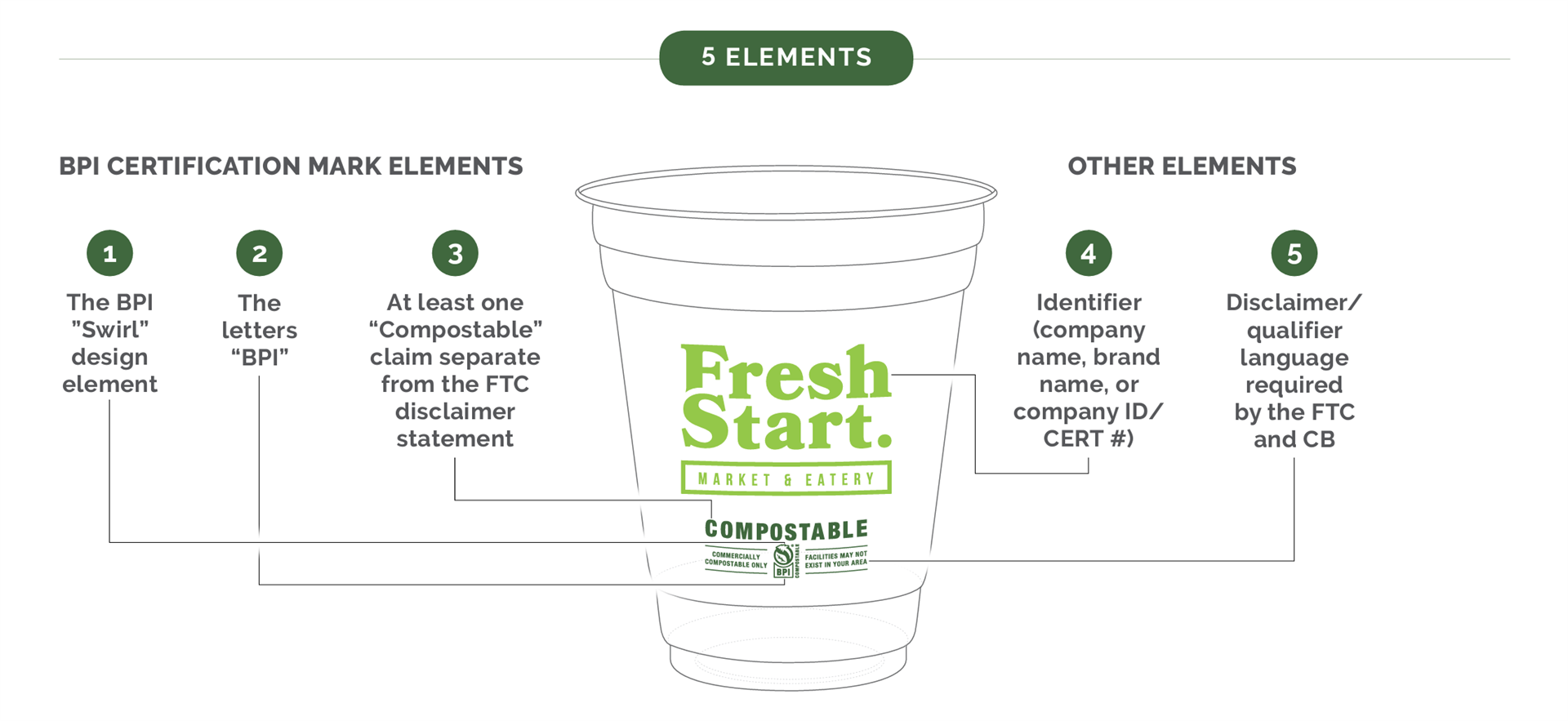 Before products are added to BPI's database and listed in the online product catalog or official certificates are issued, representative samples (BPI does not need to see every size in a category if all the artwork is the same) of product and packaging artwork must be submitted to BPI for confirmation that the artwork meets the requirements for use as outlined in the BPI License Agreement. Product and packaging artwork must be confirmed before the certification process is complete. Applicants may submit artwork for review once the application fee has been paid and a testing scheme has been received by the applicant. Once the BPI License Agreement has been signed, BPI can provide watermarked versions of the BPI Certification Mark for preliminary design and review purposes. Once BPI has received all final paperwork and payments, the applicant will receive official BPI Certification Marks, including the Lock Up Version of the BPI Certification Mark that is unique to the applicant company.

BPI also has general industry Guidelines for the Labeling and Identification of Compostable Products and Packaging that provides expanded recommendations and graphical examples for how to label compostable products beyond what is shown in the BPI Certification Mark Usage Requirements.
For more information on labeling, please visit the Labeling FAQ.
For questions about BPI's artwork requirements and review process, please contact our Marketing Team.